Inspiration Project
LOCATION. West Des Moines, Iowa.
CONCEPT. This residential landscape is designed around the inspiration theme of SIMPLICITY. Bold, parallel lines are drawn both in layout and planting heights to deliver functional programmatic elements in an elegant, simplistic fashion.
The inspiration piece assigned to this project was the Apple Corporation. This company is known world-wide for their simplistic, elegant industrial designs, which are the qualities I chose to guide my concept.
The theme of simplicity extends not just to the shape of bedlines, but to the plant selections themselves. Although the beds in the front of the house feature plants for sun, some of the selections are also used in the shade gardens that flank the east and west facades. Oftentimes there are plants that are pigeon-holed into a single function: sun or shade. But many plants are very tolerant of varying light conditions. Perfect examples of this are Sesleria caerulea and Stachys officinalis 'Hummelo'. This design capitalizes on the adaptability of these specimens, to tie the compositions together throughout multiple garden beds.
Inspiration Project - Front Yard
Sheet layout
The design is arranged into three major zones: public, personal, and park, in increasing degrees of privacy. These zones are demarcated through the use of hicks yew hedges, laid out as banding elements in the plan. As you approach the property from the street, the design provides neighborly curb appeal through a pair of curbside perennial beds lined by a white picket fence.
Front yard - Planting detail
Sunny perennial bed at front yard. Perennial forbs and grasses are planted in drift patterns before a 4-foot picket fence. Ratio of grasses to forbs is balanced to bring winter interest. Early blooming bulbs such as Allium moly (AM) and Chionodoxa forbesii (CF) are scattered throughout the planting to provide early spring interest. Summer-blooming bulb Allium atropurpureum (AA) provides a punch of color through mid-season.
Masterplan
Walking out of the house and into the backyard, an area for outdoor dining and entertaining is provided. Reflecting water pools in simple rectangular shapes draw your eye to the axially aligned Corneliancherry dogwoods (CM). These beautiful ornamental trees provide nodes that beckon people to explore the corners around the house, and enhance a sense of mystery and excitement.
Shade garden - Rendered perspective
Around the western corner of the house, you will find a part shade garden filled with hostas, coral bells, betony, moor grass, wood asters, and cranesbill. The varying leaf textures of these plants will provide season-long interest, while their flowering habits will provide moments of color in different months. The betony and moor grass will provide winter interest.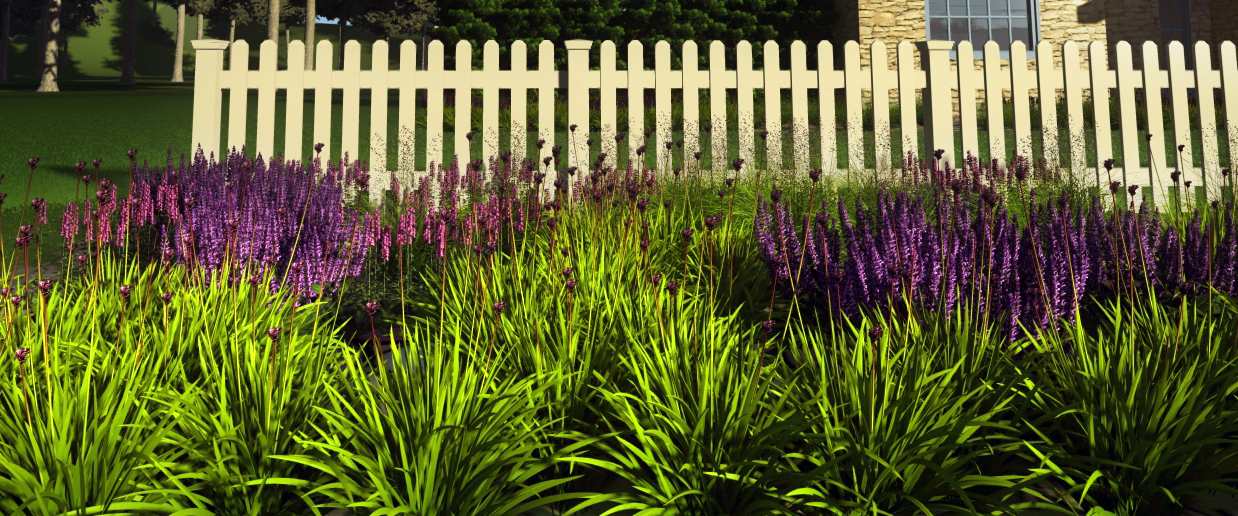 Front yard - Perspective
Sunny perennial border for Inspiration Project. Plant composition based on Know Maintenance approach. On the foreground, the seed heads of Sesleria caerulea pickup the purple hues of Salvia nemerosa and Stachys officinalis. The panicle haze of Sporobolus heterolepis sheers the backgorund.
Inspiration Project - Backyard Animation